Floating Contact Form Portlet
Back Government & Public Sector Logistics
Compliant and secure logistics and warehousing services for the UK Government and the wider public sector
Your Trusted Supply Chain Partner
"
We worked closely with the Kuehne+Nagel team who provided the services and we
appreciate their contribution to the vaccine rollout.

Chris Neame, Commercial Lead, Vaccine Taskforce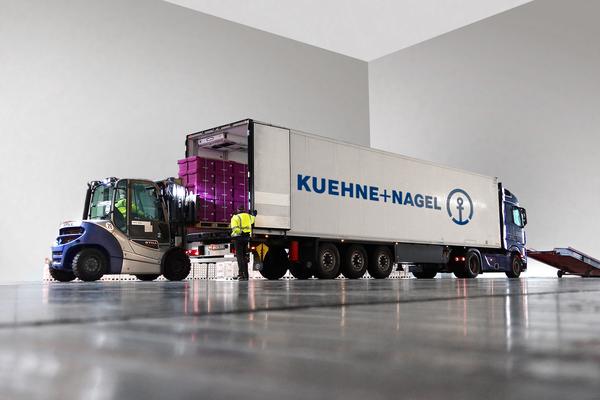 ---
We have a proven track record of delivering innovative, sustainable and compliant logistics solutions and warehousing services to Government and the Public Sector.
Our list of clients includes Ministry of Defence, Driver & Vehicle Standards Agency, Department of Health and Social Care, Department for Business, Energy and Industrial Strategy. and Foreign Commonwealth and Development Office Services
Meeting Standards + Requirements
Inclusion on the Crown Commercial Service Frameworks enables us to provide comprehensive services that conform to Government requirements, regulations and standards.
Complex challenges are simplified through advice, customised solutions and compliance management, including:
Meeting ISO/PC 271 standards
Information Security Systems certified to ISO 27001
Quality Management System certified to ISO 9001
Modern Slavery
Achieving a safe and sustainable supply chain through world-class environmental initiative certified to ISO 14001 and ISO 45001 standards respectively.
Delivering Social Value
Our aim is to provide maximum value to British tax payers by using best in class end-to-end solutions throughout our supply chains combined with comprehensive road, sea and air solutions and innovative technologies.
Our purpose as a company is to deliver through our services, and by creating social value in our local communities, including through job creation, training and volunteering.
Providing Sustainable Solutions

Sustainable initiatives such as our Net Zero Carbon programme and our continuous improvement methodologies ensure we deliver operational efficiencies that provide service improvements and value for money.
In addition to this, we are at the forefront of delivering sustainable solutions through the use of renewable fuels, such as Sustainable Aviation Fuel and our integrated CO2 neutral solution for all shipments in our global network.
By combining different methods of transport to reduce the overall environmental impact, using electric vehicles wherever we can, and by applying continuous improvement methodologies we ensure we deliver operational efficiencies that will provide service improvements and cost savings.
Governance
Our dedicated Government and Public Sector team have a high level of understanding of government procedures and are experienced in meeting complex requirements, while adhering to regulations and ensuring customers receive excellence through:
Certainty of delivery
Secure end-to-end visibility
On-time performance
All of the above is combined with rigorous operational excellence that provides flexibility and scalability to support rapid change.
Working in Partnership
Members of our experiences Key and Strategic Account Management teams are dedicated or assigned to each Government + Public Sector customer to ensure a single point of contact is provided.
Kuehne+Nagel account management methodologies are used to create management information reports that help facilitate discussion, to ensure service improvements, and to meet regulatory requirements.
During monthly, quarterly, and annual business reviews and meetings general industry and company specific updates are provided including:
Performance data measured against key performance indicators
Strategic projects are agreed and updates provided,
Continuous improvements are agreed and results recorded
Risks and financial updates
Contact our Government and Public Sector experts today to learn more about how Kuehne+Nagel can support your business success.