Floating Contact Form Portlet
Back SailGP switches to recycled veg fuel logistics
As part of its Race for the Future ambitions, as SailGP's European leg came to a close in Cadiz the league is celebrating a 90 per cent carbon emission reduction across the transportation logistics of its event infrastructure in partnership with Kuehne+Nagel.
Industry:
Global Sail racing league
Solution:
Transporting SailGP's event infrastructure over 3642 km by road using HVO – a low carbon alternative to fossil fuels
---
Results:
Low carbon transport reduces SailGP carbon emissions by 90 per cent for a leg of its European journey, transporting its infrastructure 3642 km via road

Ensuring infrastructure is transported between ports, on schedule

Contributing towards the League's actions to reach 55 per cent carbon emission reduction by 2025
---
Fuelling the logistics trucks with 100 per cent recycled vegetable oil from Denmark to France and onto Spain is just one part of the League's actions to reach 55 per cent carbon emission reduction by 2025.
The global sailing league SailGP joined forces with Kuehne+Nagel in March 2021 to help accelerate its goal to be powered by nature on water and onshore by 2025.

This summer as SailGP raced at its European venues, it needed to move the event logistics from Aarhus, to Saint-Tropez and onto Cadiz. Driven to reduce carbon emissions, Kuehne+Nagel and SailGP looked at the most sustainable option - and selected HVO as a low carbon alternative to conventional fossil fuel. This also meant a low carbon alternative to meet the transit times and race schedules.

SailGP's Director of Purpose and Impact said, "We work very closely with Kuehne+Nagel to make sure we use the most sustainable logistics wherever we can. It was great that this summer we could use HVO, or hydrotreated vegetable oil for the journey from Denmark to France and then onto Spain as part of our carbon plan and clean energy ambitions."
Kuehne+Nagel switched the 89,000 litres of diesel to HVO fuel required to transport the containers by road on the two-stage, 3642 km journey.
So, for the 3642 km that the trucks took to get from Aarhus to Saint-Tropez and then onto Cadiz, this achieved a 172,400-kilogram reduction in CO2 emissions, compared to the emissions from conventional fossil-based diesel fuel.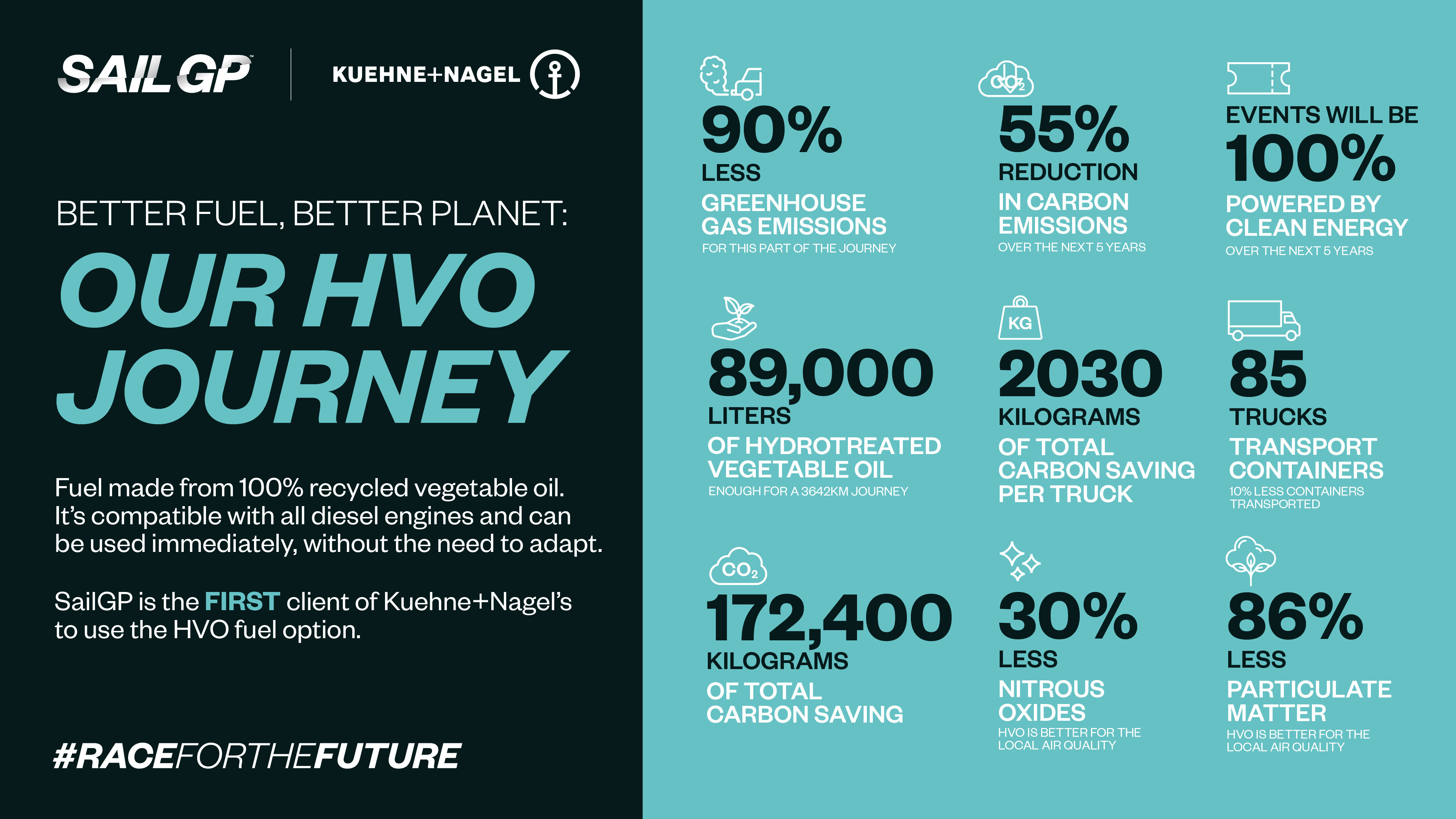 HVO versus diesel
HVO is a recycled non-fossil based fuel that is known as a "drop-in" fuel and can easily be used in existing diesel engines without adaptations. It's a fuel that has been identified as a core product to meet UK Government targets to reduce emissions by 80 per cent by 2050.
It emits far fewer greenhouse gases and emissions, produces up to 30 per cent fewer nitrogen oxides and has lower particulate matter, by up to 86 per cent.
Produced from 100 per cent sustainable raw materials, it is odourless and biodegradable. What's more, vehicles that use it show no signs of degradation.
HVO is approved for use in heavy-duty road vehicles, passenger cars and non-road vehicles and as a replacement for red powered diesel engines.
Verification
Suppliers of this type of fuel have to provide certificates to prove traceability, so SailGP was assured that producer Neste has verified emissions were reduced by 90 per cent. This means that, per truck, CO2 emissions were reduced by around 2,030 kilograms.
Kuehne+Nagel works closely with the drivers and tracks the efficiency of the driving to ensure optimum economic speeds are achieved, further reducing the fuel used.
"
It was great we could use HVO, or hydrotreated vegetable oil, as part of our carbon plan and clean energy ambitions

Fiona Morgan, director of purpose and impact, SailGP